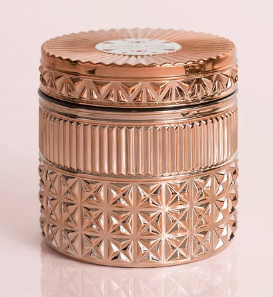 Pink Grapefruit & Prosecco Gilded Muse Faceted Jar
 

Pop the bubbly and embrace your glamorous side with the 

Pink Grapefruit & Prosecco

 Gilded Faceted Jar. This rose gold candle demands attention from the start with its sparkling metallic finish and notes of mimosa flower, grapefruit and violet. Pairing this with a pitcher of mimosas and some friends is recommended, but not required.
Burn Time: Up to 44 Hours
Dimensions: 4.25"h x 4.25"d
Weight: 11 oz